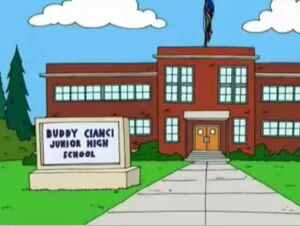 Buddy Cianci Junior High School is the school that Peter and Chris Griffin used to attend. The school principal is Principal Sloan. It is named for the twice convicted criminal and ex-mayor of Providence, Rhode Island, Buddy Cianci. Mrs. Lockhart was also a teacher here in "Fast Times at Buddy Cianci Jr. High", following the resignation of Ms. Clifton and the reassignment of Brian Griffin.
In "Running Mates", then-school board president Peter Griffin renamed the school to honor him, thus becoming Peter Griffin Junior High School. After scandal forced his resignation, the original name was restored.Randall Fargus was also a teacher there for many years, until the city school board fired him, temporarily ending his teaching career of 32 years. Because of Peter's campaign, he returned to work soon after.
The school mascot is the Dust Mites according to "Peter Griffin: Husband, Father...Brother?".
A dance was held here in "North by North Quahog", where Chris was caught possessing alcoholic beverages.
Other appearances
Community content is available under
CC-BY-SA
unless otherwise noted.