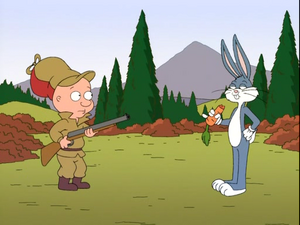 Bugs Bunny is an American fictional character who appears in the Looney Tunes and Merrie Melodies series of animated films. He is a talking rabbit. His catchphrase is "What's up, Doc?", and is typically used as a greeting to anyone he encounters. In 2002, he was named by TV Guide as the greatest cartoon character of all time. Currently, he is the corporate mascot for Warner Brothers, especially its animated productions. Bugs starred in 163 shorts in the Golden Age of American animation, and made cameos in three others along with a few appearances in non-animated films.
In "E. Peterbus Unum", Peter Griffin's grandfather Josiah Griffin was the only animator at Warner Bros. who wanted to call Bugs "Ephraim, The Retarded Rabbit".
He also appears in the Stewie Griffin: The Untold Story segment Stewie B. Goode. He is shown being shot at in the chest by Elmer Fudd, then having his neck snapped by Fudd making sure Bugs does not come back. He was voiced by Seth MacFarlane.
Sylvester the Cat's "Sufferin' Succotash" beats Elmer Fudd's rabbit dish on Top Chef: Looney Tunes Edition in "Stewie Is Enceinte". Although Bugs is unnamed, the description follows a classic gag of Elmer trying to trick bugs into thinking it is a bath.
Peter buys a jacket in the style of Bugs Bunny from one of his opera cartoons in "The Finer Strings".
External Links
Community content is available under
CC-BY-SA
unless otherwise noted.