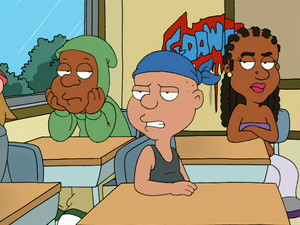 Carlos is a student at Buddy Cianci Junior High School. When Brian becomes the new teacher for the remedial students in "Fast Times at Buddy Cianci Jr. High", he has the students introduce themselves. Carlos admits that under his tough exterior is a boy that wants to learn, but under that is a rapist.
When Brian tries to interact with the kids though rap, Carlos calls him out for being racist. But when a discouraged Brian uses an ampersand in the title of Romeo & Juliet, Carlos becomes intrigued despite Brian's insults over his stupidity in not knowing what an ampersand is. When the discussion turns, Brian actually offers the kids words that encourage them and Carlos leads them in support of Brian.
Carlos is voiced by Arif S. Kinchen.
Community content is available under
CC-BY-SA
unless otherwise noted.