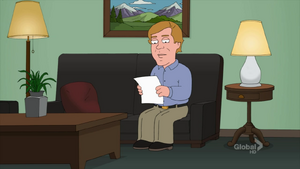 Ivan Simon Cary Elwes (born 26 October 1962), known professionally as Cary Elwes, is an English actor and voice actor. Elwes acted in off-Broadway plays during college and moved to the United States in the early 1980s. He is known for his roles as Westley in the film The Princess Bride, as well as other films such as Bram Stoker's Dracula and Saw.
When Peter Griffin notes than he likes sending fan letter to see if he gets a response in "Ratings Guy", a cutaway gag shows Cary reading one of Peter's letter where he notes his appearance in The Princess Bride and also in Robin Hood: Men in Tights.
Cary would respond to his lampooning by appearing at the offices of Family Guy the following day with a response letter for Peter.[1]
Cary provides the voice of Dr. Watson in "Secondhand Spoke" and assorted voices in "Chap Stewie".
Community content is available under
CC-BY-SA
unless otherwise noted.