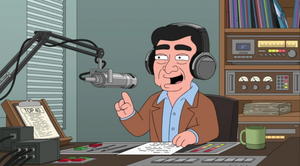 Kemal Amin "Casey" Kasem (April 27, 1932 – June 15, 2014) was an American DJ, music historian, radio personality, and actor. He was the host of several music radio countdown programs, notably American Top 40 from 1970 until his retirement in 2009. He also provided the voice of several characters for Hanna-Barbera, including Shaggy in various series in the Scooby-Doo franchise.
After his death and despite a court order during family infighting granting custody of his body to his daughter Kerri, Casey's wife Jean managed to secret his body out of the country to Oslo, Norway for burial, which occurred six months after his death.
Casey Kasem appears in the end of "Yacht Rocky" in a parody of his American Top 40, reporting that the episode had fallen three spaces and reads a 'fan' letter asking if Christopher Cross is as nice as he seems, as well as asking if he is dead. Casey confirms the answers, asking his wife to just bury his body.
Community content is available under
CC-BY-SA
unless otherwise noted.