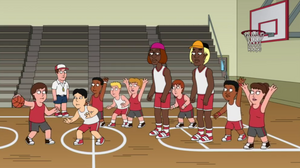 'Cat fight' is a term used to describe a fight between two women.
'The lost boys of the Sudan' that stand in for Meg and Chris in gym class is a reference to the roughly 20,000 young boys displaced during the 1987 Sudan civil war, about half of which died during the journey to refuge in Kenya. Some 4000 of these made it to the United States in 2001.[1]
The Barista-Cats is a pun on the Walt Disney film The Aristocats.
Walking home after being abandoned by Stewie, Brian grumbles about kibbles and bits, quoting a long-running phrase for the dog food of the same name.[2]
Community content is available under
CC-BY-SA
unless otherwise noted.