Cat Fight
The fur flies when Quagmire opens a cat café.

Season: 18 Episode: 05
Total Episode Count: 334
Prod. no.: JACX03
First Aired: November 3, 2019

Featuring: Brian, Glenn Quagmire
Also Appearing: Peter, Lois, Meg, Chris, Stewie, Joe, Cleveland, Tricia Takanawa, Tom Tucker, Bruce, Mayor Adam West, Principal Shepherd, Minnie Mouse, Albertine, Vera
Director: Jerry Langford

Assistant Director
:
Orlando Gumatay
Writers
:
Steve Callaghan
Storyboarders
:
Helen Kim
,
Eric Sanford
,
Stephen Wong
Plot
: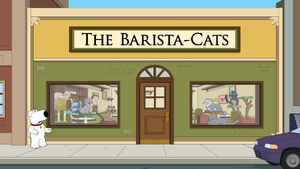 To fill a perceived need in town, Quagmire decides to open a cat cafe. However, he places it next to Brian's favorite bar, which causes friction between the two so Brian vows to shut it down. Making an argument that it's a health hazard, Brian actually succeeds in getting it shut down until the city council can rule on it. However, this backfires when Brian is no longer allowed in his favorite bar either.
Quagmire suddenly has to live with all of the cats from the cafe but find Peele prepared to take care of so many. To put an end to it snappishness, Stewie gets the idea to have Brian poses an emotional support animal so he can get into anywhere so long as they're together, but when they get into a spat, Stewie abandons him. Returning to home, he comes upon Quagmire burning the deceased bodies of his cats and they start to fight. But when Brian is struck by a passing bus, Quagmire stops to patch him up. as the chat, Quagmire admits he wanted to be known for something good instead of just being the town sex maniac. To cheer him up, Brian puts on his emotional support animal vest to go for a walk with him.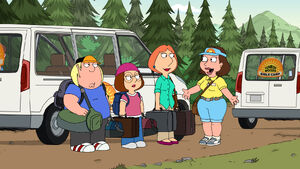 Meanwhile, when Chris and Meg get into trouble at school, Lois blames it on a lack of religion so she decides to send them to a Christian camp and joins in with them. there they are all handed contracts to sign pledging no masturbation, drugs or alcohol. They also end up in a mass baptism, and Lois decides it's time to escape. she steals the head counselors car keys while pretending to lead the camp in prayer. As Chris snoozes is on the way home, Lois shares with Meg that religion is only for dumb people like Chris but they are too smart for it. Between bad-mouthing her brother and religion, this traumatizes Meg.
Things return to normal when the city council lift the ban on animals in public places, but Meg has fled the family to Japan where she is treated this trash all the same.