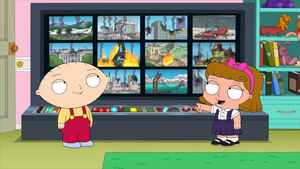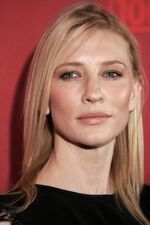 Catherine Élise "Cate" Blanchett (born 14 May 1969) is an Australian actress and theatre director. She has won multiple acting awards, most notably two SAGs, two Golden Globe Awards, two BAFTAs, and two Academy Awards. Blanchett came to international attention for her role as Elizabeth I of England in the 1998 film Elizabeth, directed by Shekhar Kapur. She is also well known for her portrayals of the elf queen Galadriel in Peter Jackson's The Lord of the Rings trilogy and The Hobbit, Colonel-Doctor Irina Spalko in Indiana Jones and the Kingdom of the Crystal Skull and Katharine Hepburn in Martin Scorsese's The Aviator, a role which brought her an Academy Award for Best Supporting Actress. She would win a second Academy Award for Woody Allen's Blue Jasmine in 2014.
Blanchett provides the voice of Penelope in "Mr. and Mrs. Stewie" and Queen Elizabeth II in "Family Guy Viewer Mail No. 2".
Community content is available under
CC-BY-SA
unless otherwise noted.