Stewie unveils an updated version of his Time Machine, which he destroyed in "Life of Brian".
Stewie watches The Cadwalliders of Essex, a parody of Downton Abbey.
Brian's ring tone in this episode is "Barracuda" by Heart.
"Tis Twelve, I think" has its melody used as bumper music.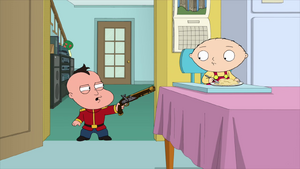 Cousin Earl does not appear in the episode but his name is provided in a press release for the episode.[1] In the Family Guy Season 12 DVD release, Cousin Earl appears and the person that challenges Stewie to a duel remains unnamed.
This episode features blatant product placement in which Peter wishes for a Snickers candy bar and it appears and Rupert brings Subway into the past.
Brian said Stewie couldn't stop himself from altering the past, although Brian ignored Stewie's warnings repeatedly in "Back to the Pilot".
Rick Springfield voices himself in a cutaway gag. Also, he sings an alternate version of his song "Jessie's Girl" while sweeping the floor.
Stewie travels three years into the past with the intent of stopping his conception. The show has maintained his age as "one" since "Chitty Chitty Death Bang", and allowing for nearly a year of gestation preceding his birth, would place him at slightly more than a year before his conception. Although Lois and Peter are shown to be a loving couple at this point, in "Yug Ylimaf", things had deteriorated following Stewie's trip to the past that resulted in Peter placing his hopes that Stewie could save their marriage.
Community content is available under
CC-BY-SA
unless otherwise noted.