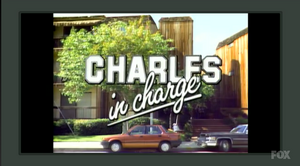 Charles in Charge was an American sitcom series which starred Scott Baio as Charles, a 19-year-old student at the fictional Copeland College in New Jersey, who worked as a live-in babysitter in exchange for room and board.
It was first broadcast on CBS from October 3, 1984 to April 3, 1985, when it was cancelled due to a struggle in the Nielsen ratings. It then had a more successful first-run syndication run from January 3, 1987 to December 22, 1990. 126 original episodes were aired in total.
In "The Thin White Line", it is revealed Peter Griffin once worked as a security guard for George Harrison from The Beatles on the night he was attacked by an assailant. Peter is in a guard hut with his feet up and is watching the show while singing along to the theme music. Meanwhile, a knife-wielding man scales the fence behind him and runs into the house followed by much commotion.
The theme song is also heard as part of the "T.V. Medley" on the Family Guy: Live in Vegas album.
In "Road to the North Pole", Peter asks Mall Santa Claus for a Charles in Charge lunchbox. At the end of the episode, which takes place about one year after the initial request, he receives it from the real Santa.
The opening theme airs in live action on The Drunken Clam's television in "New Kidney in Town". Peter skips dialysis to watch the episode.
Community content is available under
CC-BY-SA
unless otherwise noted.