Spider-Man: No Way Home Trailer Dropped - The Loop
Play Sound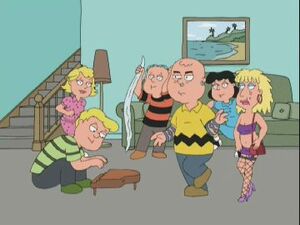 Charlie "Chuck" Brown is the main character from Charles Schulz's Peanuts cartoons.
Brown first appeared in "E. Peterbus Unum". When the guys are saying what they got with their tax return, Charlie, dressed unconvincingly as a ghost, said "I got a rock", referring to the It's the Great Pumpkin, Charlie Brown! when he kept getting rocks instead of candy.
In "Ready, Willing, and Disabled", Stewie groaned like Brown when the money clip was claimed. His face becoming nothing but a wide open mouth.
Charlie also appears in "Mother Tucker", behaving abominably at the Peanuts reunion where his guest is a coarse crackwhore, whom he calls a skank. He breaks down in tears because Snoopy and Woodstock are dead, the strong implication being that he had supplied the drugs which led to their demise. He claims that he doesn't care about Woodstock, but that Snoopy did not deserve it.
When Herbert gets a bath from Meg instead of Chris in "Play It Again, Brian", he exclaims "Aww rats!" in the same manner as Charlie Brown.
In "Brian's Got a Brand New Bag", Peter kicks Lucy van Pelt for pulling the football away from Brown, forcing her to let him finally kick it, then kicking her again for not being a licensed therapist. Here, Charlie Brown is voiced by Jack Samson.