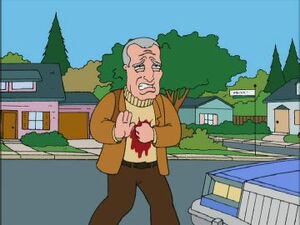 Charlton Heston (October 4, 1923 – April 5, 2008) was an American actor of film, theatre and television. Heston is known for having played heroic roles, such as Moses in The Ten Commandments, Colonel George Taylor in Planet of the Apes, El Cid, and Judah Ben-Hur, for which he won the Academy Award for Best Actor.
Heston was also known for his political activism. In the 1950s and 1960s he was one of a handful of Hollywood actors to speak openly against racism and was an active supporter of the Civil Rights Movement. Initially a moderate Democrat, he later supported conservative Republican policies and was president of the National Rifle Association from 1998 to 2003.
He was accidentally shot by Joe Swanson in "Love Thy Trophy", who said the safety on the gun was on. In his dying words he explained that it was his right as an American. He appeared in the beginning of the episode as the actor chosen to shoot a pigeon carrying the theme for the Quahog Autumn Parade. When the pigeons were freed, he shouted a quote similar to Heston's 1956 film, The Ten Commandments.
"I Am Peter, Hear Me Roar", "Road to the Multiverse" and "I Take Thee Quagmire" all feature parodies of Heston's lines from Planet of the Apes.
Frank Sinatra, Jr. regales diners at his restaurant with tales such as Heston not using toilet paper in "Bookie of the Year".
He was voiced by Seth MacFarlane.
Community content is available under
CC-BY-SA
unless otherwise noted.