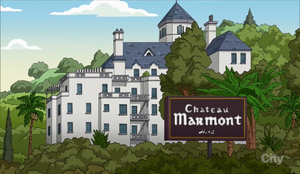 The Chateau Marmont is a hotel located at 8221 Sunset Boulevard in Los Angeles, California. The hotel was designed by architect William Douglas Lee and completed in 1929.
James Woods picks up a date in "Tom Tucker: The Man and His Dream" at a party in the Chateau Marmont and calls Peter at 2am to get his opinion on her looks. When Peter reluctantly gives her a thumbs up, James tells him to clear out of his hotel room so he can bring the girl there.
After being fired from Family Guy in "Inside Family Guy", Peter takes up temporary residence at the Chateau Marmont until he is kicked out for failure to pay. Episode host James Woods also mentions that he once participated in the consensual murder of an underage prostitute.
Community content is available under
CC-BY-SA
unless otherwise noted.