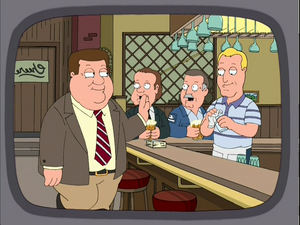 Cheers is an American situation comedy television series that ran for eleven seasons from 1982 to 1993. It was produced by Charles/Burrows/Charles Productions in association with Paramount Network Television for NBC, having been created by the team of James Burrows, Glen Charles, and Les Charles. The show is set in the Cheers bar, named for the toast "Cheers", in Boston, Massachusetts, where a group of locals meet to drink, relax, chat and have fun. The show's theme song was written by Judy Hart Angelo and Gary Portnoy and performed by Portnoy its famous refrain, "Where Everybody Knows Your Name" also became the show's tagline.
The show starred, among others, Ted Danson, Kelsey Grammer, John Ratzenberger, Kirstie Alley, and George Wendt.
In "Road to Rupert", Peter Griffin decides to entertain himself without his drivers license by pretending he is part of the show.
In "Three Kings", during the Stand by Me chapter, Ace (Mayor West),Beast Man, Mer-Man and Norm, a character from Cheers arrives as members of Ace's gang to take possession of a dead body found by Peter and his friends.
After Stewie is kicked out of his own musical duo with Brian in "The Boys in the Band", He notes that the act won't be the same, just as Cheers wasn't the same after Kirstie Alley. As Norm enters the bar and is greeted, a female voice is heard from him announcing he is really the new character.
Brian and Stewie's turning out the lights on Frank's Restaurant, Jr. in "Bookie of the Year" is a homage to the final episode of Cheers, in which Sam also turned out the lights for the final time in the bar. The title card that follows lists the producers of Cheers.
Peter and the guys incorporate a bit of Cheers in an attempt to win a comedy Emmy in "Emmy-Winning Episode".
At a factory that makes protein shakes from dogs in "The Woof of Wall Street", Michael Vick and Eli Manning are both greeted in the style of Norm from Cheers.
Among the television shows featured in the background during Peter's introduction to ""Family Guy" Through the Years" is an image of Norm in Cheers.
Peter's eulogy for Angela in "Pawtucket Pete" contains references to Cheers.
When Peter makes a high-brow comment in "Trans-Fat", Stewie reminds him that they are doing Cheers, not Frasier.
Community content is available under
CC-BY-SA
unless otherwise noted.