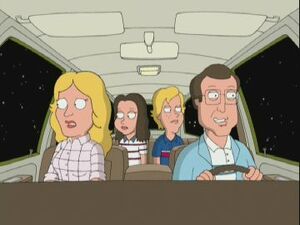 Cornelius Crane "Chevy" Chase (born October 8, 1943) is an American Emmy Award-winning comedian, writer, and television and film actor. Born into a prominent family, Chase quickly became a key cast member in the inaugural season of Saturday Night Live, where his Weekend Update skit quickly became a staple of the show. Chase is also well known for his portrayal of the character, Clark Griswold, in four National Lampoon's Vacation films. In addition to his numerous movie roles, he has hosted the Academy Awards twice (1987 and 1988) and briefly had his own late-night talk show, The Chevy Chase Show. He  starred in the NBC sitcom, Community, with Joel McHale, and was  seen in Hot Tub Time Machine and Hot Tub Time Machine 2.
An advertisement in "I Am Peter, Hear Me Roar" reveals the Dyslexic Film Society would be holding a showing of Chase's film, Fletch, the day after Peter Griffin arrives at workplace sensitivity training. Because they are dyslexic, they misspell the title as Feltch.
Brooke Roberts and Brian Griffin discuss Chase's money situation on The Bachelorette in "Brian the Bachelor".
When Peter ends an episode of SNL with the customary goodbyes in "Don't Make Me Over", he screams "Our thoughts are with you, Chevy!", a reference to Chase's rumored banishment from the show and his at-the-time stalled career.
A clip of his short-lived late night talk show was seen during "Stu & Stewie's Excellent Adventure"'s 24-style opening.
As seen in "Meet the Quagmires", Chase would be the host of The Tonight Show as of 2007 if Peter did not marry Lois. Ed McMahon would be his sidekick.
He reprises his role as Griswold in Blue Harvest.
Chase also voices a younger-looking version of himself with Dan Aykroyd in "Spies Reminiscent of Us", where he and Aykroyd were appointed spies by Ronald Reagan.
When Stewie looks down the slide in "Family Guy Viewer Mail No. 2", he imitates Chevy Chase from the film National Lampoon's Vacation.
Dan and Chevy are mentioned when Cleveland returns to his old home in "He's Bla-ack!" and discovers it has been wrecked by the previous tenants.
Community content is available under
CC-BY-SA
unless otherwise noted.