m

m (Spelling Error)

 

(5 intermediate revisions by 4 users not shown)
Line 12:
Line 12:
 

* Stewie freezes an airport security officer named [[Henry]] in carbonite from ''[[Star Wars]]''.

 

* Stewie freezes an airport security officer named [[Henry]] in carbonite from ''[[Star Wars]]''.

 

* [[James Woods]] turned 52 the day this episode aired.

 

* [[James Woods]] turned 52 the day this episode aired.

−

* Stewie uses grenades, a mace, a bag of cheerios as a ration, suction cups and an unusual ray weapon.

+

* Stewie uses grenades, a mace, a bag of as a ration, suction cups and an unusual ray weapon.

−

* When Stewie was born, it came with a map of Europe with an X on France, England, Austria, and Germany.

+

* When Stewie was born, came with a map of Europe with an X on France, England, Austria, and Germany.

 

* Peter shouts "[https://www.youtube.com/watch?v=Va_Rmpd3PZI Hong Kong Phooey]" as he jumps into the ball pit.

 

* Peter shouts "[https://www.youtube.com/watch?v=Va_Rmpd3PZI Hong Kong Phooey]" as he jumps into the ball pit.

 

* The ingredients used by the [[Heaven's Helpers]] for the punch are cyanide, arsenic, rat poison and a copy of Paul Reiser's ''Couplehood''.

 

* The ingredients used by the [[Heaven's Helpers]] for the punch are cyanide, arsenic, rat poison and a copy of Paul Reiser's ''Couplehood''.

 

* Cheesie Charlie's would later reappear as "Cheese E. Charlie's" in ''[[The Cleveland Show]]''.[http://cleveland.wikia.com/wiki/Cheese_E._Charlie%27s]

 

* Cheesie Charlie's would later reappear as "Cheese E. Charlie's" in ''[[The Cleveland Show]]''.[http://cleveland.wikia.com/wiki/Cheese_E._Charlie%27s]

 
+

* According to the table read draft of the script dated August 20, 1998, the show was intended to open with a ''[[The Price is Right]]'' gag in which none of the contestants could name the right price even after [[Bob Barker]] told them what it was.[http://leethomson.myzen.co.uk/Family_Guy/Family_Guy_1x03_-_Chitty_Chitty_Death_Bang.pdf]

−
 
 

}}

 

}}

−
 
 

{{Season1Nav}}

 

{{Season1Nav}}

 

[[Category:Episodes]]

 

[[Category:Episodes]]
---
Latest revision as of 16:21, 25 February 2021
This is the only first season episode without a cold opening.
Waylon Jennings narrates the fight over the Dukes of Hazzard watch, as he narrated the TV show.
In his excuse for losing the Cheesie Charlie's reservation, Peter tells a huge lie villainizing the establishment, culminating with a quote of Bruce Banner before transforming into The Incredible Hulk. Upon hearing Peter's story, Brian declares him to be "The Spalding Gray of crap."
This episode marks the first appearance of the Performance Artist, also known as Bruce.
In this episode, Stewie's middle name is revealed to be Gilligan.
A cutaway showed that Meg learned to walk, speak, and play the drums at the same time on her first birthday.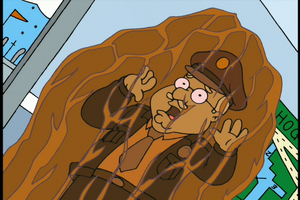 James Woods turned 52 the day this episode aired.
Stewie uses grenades, a mace, a bag of Cheerios as a ration, suction cups and an unusual ray weapon.
When Stewie was born, he came with a map of Europe with an X on France, England, Austria, and Germany.
Peter shouts "Hong Kong Phooey" as he jumps into the ball pit.
The ingredients used by the Heaven's Helpers for the punch are cyanide, arsenic, rat poison and a copy of Paul Reiser's Couplehood.
Cheesie Charlie's would later reappear as "Cheese E. Charlie's" in The Cleveland Show.[1]
According to the table read draft of the script dated August 20, 1998, the show was intended to open with a The Price is Right gag in which none of the contestants could name the right price even after Bob Barker told them what it was.[2]
Community content is available under
CC-BY-SA
unless otherwise noted.