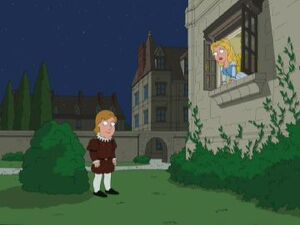 Christian, a character from Edmond Rostand's 1897 play, is Cyrano de Bergerac's best friend. Unable to express his love for Roxane out of fear of his appearance, Cyrano enlists his help to woo her.
In "Love, Blactually", Cyrano seems to have more troubles than just his large nose with trying to woo Roxane. Christian is seen representing him while Cyrano hides in the bushes.
When Peter and the guys form a neighborhood watch in "A Shot in the Dark", they discover de Bergerac hiding in the bushes and start to beat him, while Christian continues reciting his pleas for help.
Community content is available under
CC-BY-SA
unless otherwise noted.