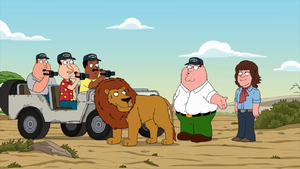 Christian the lion was a lion born in captivity and purchased by Australian John Rendall and Anthony "Ace" Bourke from Harrods department store in London in 1969. He was later reintroduced to the African wild. One year later, his former owners decided to go looking for him to see whether Christian would remember them, which he did.
In "Veteran Guy", Peter decides to use his unearned claim as a veteran to film a viral YouTube video of reuniting with Christian the lion, as well as his "heterosexual roommate" Ace. When Ace compliments him on his looks, Peter snaps that he has a family now.
Community content is available under
CC-BY-SA
unless otherwise noted.