Boba Fett Returns - The Loop
Play Sound
Christmas Crime
When Mayor West's nativity scene is ruined, Brian is seen as the prime suspect.

Season: 20 Episode: 10
Total Episode Count: 379
Prod. no.: LACX07
First Aired: December 19, 2021

Featuring: Wild West, Brian
Also Appearing: Peter, Lois, Meg, Chris, Stewie, Joe, Bonnie, Susie, Quagmire, Cleveland, Donna, Cleveland Brown, Jr., Tom Tucker, Rupert, McGruff the Crime Dog, Aunt Betty, Edgar Chavez
Director: Mike Kim

Assistant Director
:
Max Martinez
Writers
:
Steve Callaghan
Storyboarders
:
Hannah Kim
,
Michael Rundle
,
Michael Narren
,
Stephen Wong
Plot
: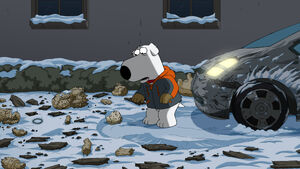 Brian, annoyed with the commercialism of Christmas, grudgingly joins the family for the Quahog tree lighting ceremony and continues his drunken rants against Christmas while drinking with Peter and his friends, who go out of their way to annoy him until he leaves in a huff. On his drunken ride home, he loses control of his car and smashes into Mayor West's hand-carved nativity scene, destroying it. In fear of being accused of a hate crime, he picks up the evidence and ditches his car in a Spirit Airlines' parking lot, figuring no one can distinguish between it and the other beat-up cars.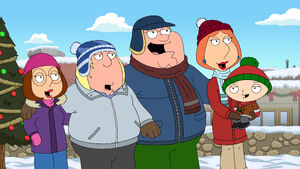 When the report of the theft of the nativity scene hits the news, Stewie quickly figures out who is responsible, but goes along with covering it up until Mayor West declares that Christmas is canceled, and drops him an annoymous message identifying the location of Brian's car. Brian is arrested, and waking up Christmas morning in jail, he is able to see the family and townsfolk celebrating in the square and eventually comes to realize how much he misses spending time with them. Mayor West then releases Brian, as all he wanted to do was to teach him that he was the one who had lost the true meaning of Christmas, not everyone else. To make amends, Brian tries to rebuild the nativity scene, but it is too broken to repair.
As a recurring gag, the hot toy for Christmas is a 'Happy Asking Panda', which is actually a spying device for the Chinese. But when they discover that people like Peter have a lower savings balance than they actually cost to make, it ruins their entire operation.