Jurassic World: Dominion Dominates Fandom Wikis - The Loop
Play Sound
Christmas is Coming
Meg gets her first "Big O" from sitting on Santa's lap.

Season: 18 Episode: 09
Total Episode Count: 338
Prod. no.: JACX06
First Aired: December 15, 2019

Guest Starring: Jimmy Connors
Featuring: Meg, Stewie
Also Appearing: Lois, Chris, Brian, Peter, Quagmire, Joe, Bonnie, Cleveland, Donna, Rallo Tubbs, Cleveland Brown, Jr., Carter, Babs, Rupert, Principal Shepherd, Holden Caulfield, Seamus, Woody Levine, Santa Claus, Dr. Baby Violin, Nicolás Almagro, Jimmy Connors, Joe Paterno
Musical Numbers: Jingle Bells Verses No One Knows, A Die Hard Christmas Carol

Director: John Holmquist

Assistant Director
:
Rick Del Carmen
Writers
:
Travis Bowe
Storyboarders
:
Jonathan Gebhart
,
Bao Nguyen
,
Steven K.L. Olson
Plot
: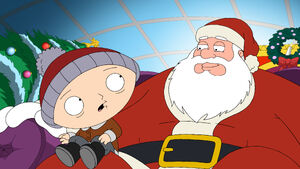 The day after a school Christmas recital, Lois has Meg take Stewie to see Santa at the mall, where he becomes traumatized. To try to comfort him and get the picture, Meg sits on Santa's lap with him and orgasms while bouncing up and down, comparing it to Jimmy Connors. Her feelings soon seep into her dreams but she passes it off as a new attraction to a guy to Lois.
Meanwhile, Stewie becomes double traumatized between Santa and Meg and he shares his story with Brian. She takes him to the mall a second time just so she can sit on Santa's lap some more, but becomes appalled when she discovers Peter has taken the Santa job. She learns that her Santa has moved to a different mall, but when she drags Stewie there, she discovers it's still not her Santa. Her outburst results in her being banned from the mall and she eventually confesses to her parents about her experience. Despite Lois' advice that she'll never capture that same feeling again, Meg refuses to give up.
Brian tries to help Stewie get over his fear of Santa by dressing up and telling him everything will be okay, but it turns on him when Stewie, as well as Chris, asks for a new dog.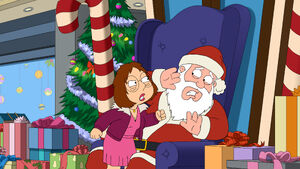 Meg travels from mall to mall trying to find her Santa, but finally runs out of time on Christmas Eve. As she's about to pee into a security guard's discarded cup, the real Santa arrives and offers her words of encouragement, although his departure in a broken down car leaves her wondering if it's really Santa or not.
Just after Christmas, Meg is greeted by Jimmy Connors who crawled in through Stewie's window and offers her a gift of two tennis balls with the advice that if she ever needs him, she should rub his balls and he'll come.