Wiki Targeted (Entertainment)
Play Sound
When Meg orgasms for the first time, she pictures Jimmy Connors. When Stewie wonders what he'll see on his first time, he imagines Nicolás Almagro during the 2016 Barcelona Open at which the ball boy tripped and crashed head-first into a wall behind Almagro.[1]

The video of Jimmy Connors' victory celebration is from his match against Paul Haarhuis during the 1991 US Open.[2]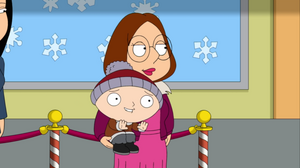 Stewie makes a meta reference, saying that Meg can accompany him in the next "Road To" episode. He then sings a version of "Road to Rhode Island", changing it to "Road to Ohio".
"Oh Come All Ye Faithful" plays during Meg's orgasm and throughout the episode.
Tangerine Dream's "Force Majeure" plays during Meg's dream sequence.
Stewie sings a line from "The Itsy Bitsy Spider" while crying on Santa's lap at the Warwick Mall.
"Greensleeves" is playing in the ice-cream parlor.
Michael Bublé & The Puppini Sisters sing "Jingle Bells" as Meg searches the malls for Santa.
One of the kids at the ice cream parlor has a white supremacist for an uncle, considering Adolf Hitler to be a great man.
Holden Caulfield returns to call Santa a phony.
The Warwick Mall security guard cites Paul Blart as the source behind his authority.
Lois discussing boys with Meg imagines it being like Sex with the City, misnaming Sex and the City.
Seamus has a son named Woody Levine.
To avoid explicitly describing Meg's orgasm due to the show's ownership by Disney, Brian uses 'Little Mermaid' and 'Moana' as euphemisms.
Stewie tries to drown himself by filling his pockets with stones. This was used as a suicide method by Virginia Woolf.[3]
At the "Mall Quiet on the Western Front" parking lot as Meg runs to pee, two men can be seen tossing the elf into a gong.
Community content is available under
CC-BY-SA
unless otherwise noted.