The title refers to the Christmas song and nursery rhyme of the same name.
Joe Paterno encouraging his players to forget everything that happened after practice is a reference to a sex scandal at Penn State which cost him his job.[1]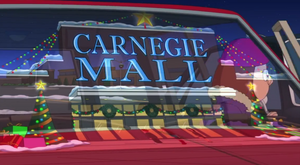 Meg attends malls in Warwick, Cranston and Wakefield, all towns in Rhode Island. She also goes to "Darth Mall", "Mall and Oates", "Martin Mall", "Carnegie Mall", "Kids in the Mall", "Niagara Mall", "The Mall of Justice", "Winter Spring Summer Fall", "Peter, Mall and Mary", "Better Call Mall", "Arsenio Mall", "Anthony Michael Mall", "Legends of the Mall", "Lucille Mall", "Mall McCartney & Wings", "RuMall", "Mall Giamatti", "That's Mall Folks", "Mall Quiet on the Western Front"; which reference the Star Wars character Darth Maul, the musical duo Hall & Oates, the comedian Martin Mull, Carnegie Hall, Kids in the Hall, Niagara Falls, the Hall of Justice, Peter, Paul and Mary, Better Call Saul, Arsenio Hall, Anthony Michael Hall, Legends of the Fall, Lucille Ball, Paul McCartney & Wings, RuPaul, Paul Giamatti, That's All Folks! and All Quiet on the Western Front respectively.
Community content is available under
CC-BY-SA
unless otherwise noted.