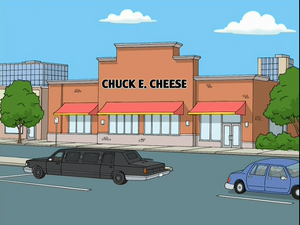 Chuck E. Cheese's (formerly Chuck E. Cheese's Pizza Time Theatre and Chuck E. Cheese's Pizza) is a chain of family entertainment centers. Chuck E. Cheese's is the main brand of CEC Entertainment, Inc., with its headquarters based in Irving, Texas. It was labeled as the first family restaurant to integrate food, animated entertainment, and an indoor arcade.
When Stewie comes to visit Olivia Fuller in her cardboard house in "Chick Cancer", Olivia points out that he should be at Chuck E. Cheese with Lois, but Stewie explains the reason for his early arrival being that a four-year-old died in the ballpit there so they had to cancel the reservation.
Bill Clinton takes Peter Griffin out to Chuck E. Cheese's in "Bill and Peter's Bogus Journey" to show him that he is only as old as he feels. While playing Dance Dance Revolution to Aqua's "Barbie Girl" in the arcade, Bill takes over for Peter when their pizza order is ready.
Brian and Stewie play at Chuck E. Cheese while sending holograms of themselves to attend Meg's funeral in "Better Off Meg".
Community content is available under
CC-BY-SA
unless otherwise noted.