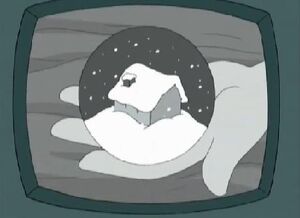 Citizen Kane is a 1941 American drama film directed by and starring Orson Welles as Charles Foster Kane. It also stars William Alland, Ray Collins, Dorothy Comingore, Joseph Cotten, George Couloris, Agnes Moorehead, Harry Shannon, Everett Salone, Ruth Warrick and Paul Stewart. It was nominated for nine Academy Awards in 1942 (including Best Picture), but only won for the award that is now Best Writing, Original Screenplay.
In "Screwed the Pooch", Brian reveals Peter was banned from a video store for taping over the movie and spoiling the ending by saying "It's his sled. It was a sled from when he was a kid. There. I just saved you two long, boobless hours."
The opening scene of "Rich Old Stewie" parodies Citizen Kane.
When Brian tries to say the film Slice and says it as "sliced" in "Baby Stewie", Stewie accuses him of having a "Citizen Kane" tone of voice.
Community content is available under
CC-BY-SA
unless otherwise noted.