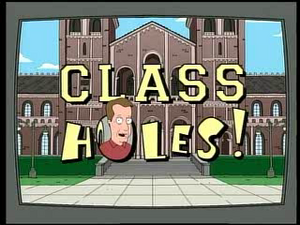 Class Holes! was a fictional American television comedy series created by Brian Griffin which premiered on CBS in the episode "Brian Griffin's House of Payne". It aired for one episode and then was canceled due to very low ratings. It stars James Woods as Byron, a man who goes back to college, where his daughter attends, and shenanigans ensue.
It was originally intended to be a drama called What I Learned on Jefferson Street before CBS took it and turned it into something "cheap and ridiculous". Not wanting to get canceled, Brian let them do it their way, which made everyone disappointed in him, especially Lois, for selling out instead of keeping his integrity. Eventually, Brian drew the line at CBS when they listened to Woods give ideas to make it more ridiculous than relatable. Having had enough, Brian quit, leaving the network with no choice but to cancel the show. It was replaced by Big Jaws in its time slot, a show Peter suggested earlier in the episode.
Stewie breaks Brian's crew gift coffee mug in "Mr. and Mrs. Stewie" from Class Holes! when he thinks Penelope poisoned the coffee.
Community content is available under
CC-BY-SA
unless otherwise noted.