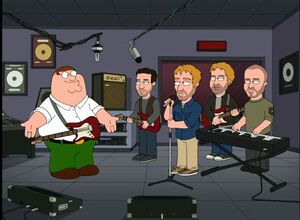 Coldplay is a British alternative rock band.
In "Long John Peter", during Busy Business Lady Who's Life Is Missing Something But She Doesn't Realize It Because She's So Busy With Business, the music playing when the business lady and her colleague's eyes meet is the band's song "Clocks".
The band appears in "April in Quahog" when Peter Griffin reveals he was kicked out for suggesting they make a song that isn't "whiny bullcrap".
In "Brian Griffin's House of Payne", a poster of Coldplay appears on the set of Class Holes!.
Meg asks her date Toby if he likes Coldplay in "Valentine's Day in Quahog", to which he gives an affirmative by noting that he is a dull, white guy.
In "Undergrounded", the guys share secrets when trapped in a tunnel collapse. Joe Swanson admits to going to a Coldplay concert which Cleveland Brown also admits attending and then tries to lie about it. However, he recounts to himself of actually attending by accident when trying to see Kid'n Play.
Community content is available under
CC-BY-SA
unless otherwise noted.