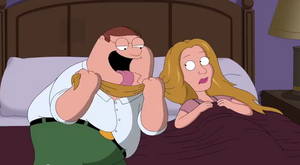 Constance Elaine "Connie" Britton (née Womack; born March 6, 1967) is an American actress, singer and producer. She is best known for her roles on the TV series Friday Night Lights and Nashville.
Connie provides her own voice in "Baking Bad". When Peter compares Lois' cookies to Connie's hair for a cutaway gag, Britton wakes up to find Peter next to her in bed eating her hair. When she demands to know who he is, he reports that he is the guy who killed her bodyguard
Community content is available under
CC-BY-SA
unless otherwise noted.