Wiki Targeted (Entertainment)
Play Sound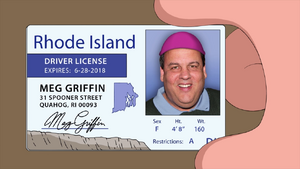 Chris Christie's portfolio image from Celebrity Measurements website serves as Meg's fake ID photo.

On the ID, Meg's height is listed as 4'8" and weight as 160.

Lois cites lyrics to "Smooth Criminal", originally recorded by Michael Jackson when trying to communicate with Annie, a comatose hospital patient.
Eddie Murphy's "Party All the Time" plays during Meg and Peter's drinking montage.
After peering at Stewie's bottom as Brian pauses watching for his pizza order, Principal Shepherd proceeds to enter an en-suite bathroom, implying that he either had, or was about to masturbate.
Although Shepherd mentioned his divorce in "Once Bitten" and wife was identified as his ex in "The Peter Principal", this episode implies that they are still married at this time.
Finding a bag from Taco Bell confirms Lois' and Peter's fears that Meg has been drinking.
Peter notes at the end of The Usual Suspects that the character was gay all along. He is referring to Kevin Spacey, who came out as a gay man in the wake of a sexual harassment allegation.[1]
Principal Shepherd's first name is revealed to be John.