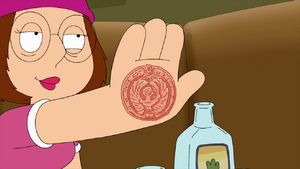 The title is a reference to the Woody Allen film Crimes and Misdemeanors.
Brian's plot is adapted from Alfred Hitchcock's film Rear Window.
The silhouettes that Brian observes are a gag taken from the film Home Alone.
The scar on Meg's hand is a reference to the film Raiders of the Lost Ark, which is further driven home when she and Peter run from Nazis with the Ark of the Covenant.
Community content is available under
CC-BY-SA
unless otherwise noted.