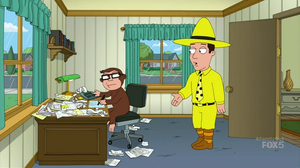 Curious George is fictional star of a series of popular children's books by the same name, written by Hans Augusto Rey and Margret Rey. The books feature a curious brown monkey named George, who is brought from his home in Africa by "The Man with The Yellow Hat" to live with him in a big city.
Peter makes a reference to Curious George Goes to the Hospital in "Holy Crap" when he claims Jesus swallowed a puzzle piece and the Man in the Yellow Hat took him to the hospital.
In "Dog Gone", Stewie says Brian causing the death of another dog becomes more upset than he was when he read Curious George Goes to his Gym Teacher's Apartment.
In "Hannah Banana", the essay the Evil Monkey writes for Chris is titled "The Slave Trade Allegory of Curious George". The allegory is the fact that a white man takes a monkey from Africa and brings him into America.
Stewie mentions Curious George in "Road to the North Pole" when Brian tries to make him aware that Santa isn't real, questioning if George is out making paper boats out of newspapers as he did in Curious George Rides a Bike.
Brian reads Apathetic George to Stewie in "Baking Bad", in which George becomes listless after years of zoo captivity.
In "A Shot in the Dark", Peter pledges to be as serious in his work as a community watch member, as "Serious George." As the Man with The Yellow Hat tries to encourage him to come outside and play, George insists on doing his taxes and strongly hints that the man should leave him alone.
Stewie mentions meeting Curious George at the library in "The D in Apartment 23", although he also mentions that Lois told him that it was only a puppet.
George is voiced by Danny Smith.
Community content is available under
CC-BY-SA
unless otherwise noted.