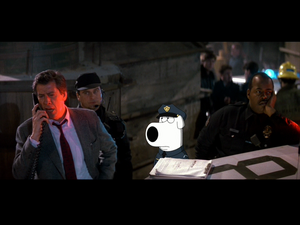 Die Hard is a 1988 American action film and the first in the Die Hard film series. It stars Bruce Willis as NYPD officer John McClane who gives terrorists a dose of their own medicine as they hold hostages in an LA office building. The film also stars Reginald VelJohnson, Alan Rickman and Paul Gleason.
While in 1984A attempting to fix the timeline in "Meet the Quagmires", Peter Griffin, after reciting "Now I know what a TV dinner feels like", which is a line from the film, considers co-writing it with his dog Brian, because it hadn't been made yet.
In the normal timeline, Brian was later revealed to be cast in the film. He appears via insertion into a live-action clip from the film in "Brian's Got a Brand New Bag" when he attempts to impress Rita. He plays one of the officers.
A cutaway gag of Peter's lunch being stolen in "Roasted Guy" parodies the first Die Hard film.
Joe and the other 'not cops' in the Rhode Island State Prison were 'not' watching Die Hard and commenting on the film's plot failings of a visiting police officer not filling out paperwork in "Shanksgiving".
After Principal Shepherd points out that Die Hard is considered a Christmas movie because it is set on Christmas Eve in "Christmas is Coming", the Adam West High School choir sings "A Die Hard Christmas Carol".
Community content is available under
CC-BY-SA
unless otherwise noted.