Meg has no dialogue in this episode.
This is Kirker Butler's first Family Guy writing credit in ten seasons.
Von Jiner mentions that Family Guy is in it's 17th season, referring to the number of writing seasons as opposed to broadcast seasons.
Stewie's Zac Sawyer makes his third appearance, after "McStroke" and "Brian's a Bad Father".
In 2011, Seth MacFarlane and Alex Borstein actually started development on a new animated sitcom that focused on a female lead.[1]
Previous notations that Family Guy was putting an end to gay jokes that originated in and during the aftermath of "Trump Guy" are reported in this episode to have been taken out of context.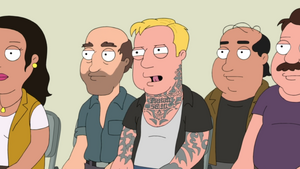 Chris says that Joe was his dad's best friend for 20 years. Peter met Joe in "A Hero Sits Next Door" when Chris was 13, which means that Chris is supposed to be about 33 in the spinoff.
Unemployable Neck-Tattoo Guy's neck reads "Isaiah 58:11" - "The Lord will guide you always; he will satisfy your needs in a sun-scorched land and will strengthen your frame. You will be like a well-watered garden, like a spring whose waters never fail."
The episode ends with Joe singing over Glenn Miller's "Pennsylvania 6-5000".
During the BoJack Horseman gag, the "D" in the "Hollywood" sign is plainly visible despite the letter notably missing in the actual series.[2]
Community content is available under
CC-BY-SA
unless otherwise noted.