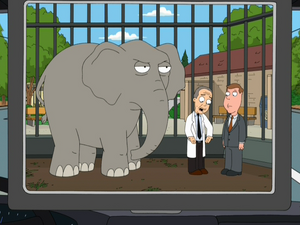 Don Knotts (July 21, 1924 – February 24, 2006) was an Emmy-winning American comedic actor best known for his roles as Deputy Barney Fife on The Andy Griffith Show and landlord Ralph Furley on Three's Company. Knotts also played comedic roles in many movies throughout his career.
He is voiced by Seth MacFarlane.
Following a news update for the audience in "Petergeist", Knotts appears in a trailer for the fictitious Disney film, Too Many Ostriches. In the trailer, he is seen complaining about the number of ostriches with him in the scene.
In "Baby Not On Board," he stars in Operation Dumbo Sex, concerning the impregnation of an elephant. The film was released posthumously.
In "The Tan Aquatic with Steve Zissou", Knotts appears as Mr. Furley, walking in on Brian and Stewie Griffin in what appears to be a compromising position. To Furley, Brian is ejaculating on Stewie's face, though he is actually helping him applying suntan lotion due to severe burns.
Mr. Furley makes another appearance in "Jerome Is the New Black", complaining about Jerome, a black man who is temporarily living with the Griffins. Peter sharply tells him to "go back to being dead."
In Something, Something, Something, Dark Side, a Tauntaun with his head is called a Dondon.
In the DVD commentary for "Jerome Is the New Black", John Viener revealed that Don Knotts originally came in to record for himself in a previous episode, but was later replaced by Seth MacFarlane because, "he wasn't Don Knotts-y enough."
During an interview in "Total Recall", Carly Simon refuses to spill who her song "You're So Vain" is about but she pictures Don Knotts in various roles in her head as the song plays.
After Peter hosts a retrospective honoring Family Guy being on the air for sixty years in ""Family Guy" Through the Years", Don shows up to warn of abuses he's experienced with classic television stars.
Don's character of Barney Fife appears in the courtroom during a gag of an early civil rights case in "Start Me Up".
Filmography
Community content is available under
CC-BY-SA
unless otherwise noted.