Jurassic World: Dominion Dominates Fandom Wikis - The Loop
Play Sound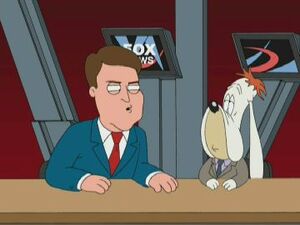 Droopy is an animated cartoon character, an anthropomorphic dog (supposedly a Basset Hound) with a droopy face, hence the name "Droopy". He was created by Tex Avery, for theatrical cartoon shorts produced by the Metro-Goldwyn-Mayer cartoon studio, in 1943. Essentially the polar opposite of Avery's other famous MGM character, the loud and wacky Screwy Squirrel, Droopy moved slowly and lethargically, spoke in a jowly monotone, and, though he didn't look like much, was shrewd enough to outwit his enemies and, when finally roused to anger, capable of beating adversaries twice his size with a comical thrashing.
The character first appeared, nameless, in Avery's 1943 cartoon Dumb-hounded. Though he would not be called "Droopy" onscreen until his fifth cartoon, Señor Droopy (1949), the character was officially first labeled Happy Hound, a name used in the character's appearances in Our Gang Comics. After the demise of the Droopy series in 1958, the character has been revived several times for new productions, often television shows also featuring MGM's other famous cartoon stars, Tom and Jerry.
"Ocean's Three and a Half" cutaways to Hannity & Colmes with Droopy Dog filling in for Alan Colmes, parodying Colmes passive nature to Sean Hannity's fiery conservatism.
Melanie Griffith resembles and speaks like Droopy in "Brian Writes a Bestseller" in the cutaway where Stewie is acting as Melanie Griffith's 'loose skin holder', after Stewie fails to hold on.
Dr. Hartman prescribes Droopy enhancement pills in "Peter Problems", believing them to be anti-depressants. Droopy just feels that things are getting harder for him.
When Lois makes the family eat healthy in "Saturated Fat Guy", Peter points out that looking better doesn't solve problems, using Droopy Dog as an example. Despite a permanent smile, Droopy reports he still isn't happy. He pulls out a gun to shoot himself, asking the viewers to study his brain so that others won't suffer as he had.