m

 

(5 intermediate revisions by one other user not shown)
Line 1:
Line 1:
 

[[File:Penelope Cruz.jpg|right|300px]]

 

[[File:Penelope Cruz.jpg|right|300px]]

−

'''E! Entertainment Television''', or more simply referred to as [[E!]], is an American cable television and direct broadcast satellite network. The network has been wholly owned by Comcast since November 2006.

+

'''E! Entertainment Television''', or more simply referred to as E!, is an American cable television and direct broadcast satellite network. The network has been wholly owned by Comcast since November 2006.

 
 
−

[[ALF]] was the subject of an ''[[E! True Hollywood Story]]'' in [[To Love and Die in Dixie]].

+

[[ALF]] was the subject of an ''[[E! True Hollywood Story]]'' in [[To Love and Die in Dixie]].

 
 
−

[[Joan Rivers|Joan]] and [[Melissa Rivers]] were thought to be hosting a red carpet show for E! at the Adult Movie Awards in [[Brian Does Hollywood]], but it turns out they weren't, as Joan was desperate for screentime.

+

[[Joan Rivers|Joan]] and [[Melissa Rivers]] were thought to be hosting a red carpet show for E! at the Adult Movie Awards in [[Brian Does Hollywood]], but it turns out they weren't, as Joan was desperate for screentime.

 
 
−

In [[The Courtship of Stewie's Father]], [[Cleveland Brown]] revealed he once worked for E!. A cutaway shows him working at an awards show, covering it for the network, calling over [[Penelope Cruz]], who he mistook for Seabiscuit. After Cruz clarifies she is not a horse, he feeds her a carrot.

+

In [[The Courtship of Stewie's Father]], [[Cleveland Brown]] revealed he once worked for E!. A cutaway shows him working at an awards show, covering it for the network, calling over [[ Cruz]], who he mistook for Seabiscuit. After Cruz clarifies she is not a horse, he feeds her a carrot.

 
 
−

[[Pearl Burton]] was the subject of an episode of ''[[E! Mysteries & Scandals]]'', hosted by [[A. J. Benzer]] in "[[Brian Wallows and Peter's Swallows]]". The episode helped [[Brian Griffin]] delve into Burton's reasons for isolation and bitterness

+

[[Pearl Burton]] was the subject of an episode of ''[[E! Mysteries & Scandals]]'', hosted by [[A. J. ]] in "[[Brian Wallows and Peter's Swallows]]". The episode helped [[Brian Griffin]] delve into Burton's reasons for isolation and bitterness

 
+
 
+

[[Andrea Fay Friedman]], the voice of [[Ellen]] in "[[Extra Large Medium]]", was the final person featured on ''Born Different 2: More Amazing Stories'' in 2011. Her role was mentioned, and was packaged with a clip from the episode, specifically the character's date with [[Chris Griffin]].

 

[[Category:Television Shows]]

 

[[Category:Television Shows]]
---
Latest revision as of 11:26, 5 September 2017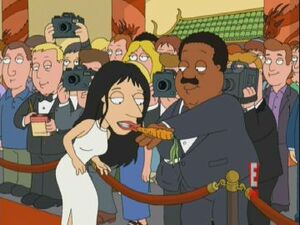 E! Entertainment Television, or more simply referred to as E!, is an American cable television and direct broadcast satellite network. The network has been wholly owned by Comcast since November 2006.
ALF was the subject of an E! True Hollywood Story in "To Love and Die in Dixie".
Joan and Melissa Rivers were thought to be hosting a red carpet show for E! at the Adult Movie Awards in "Brian Does Hollywood", but it turns out they weren't, as Joan was desperate for screentime.
In "The Courtship of Stewie's Father", Cleveland Brown revealed he once worked for E!. A cutaway shows him working at an awards show, covering it for the network, calling over Penélope Cruz, who he mistook for Seabiscuit. After Cruz clarifies she is not a horse, he feeds her a carrot.
Pearl Burton was the subject of an episode of E! Mysteries & Scandals, hosted by A. J. Benza in "Brian Wallows and Peter's Swallows". The episode helped Brian Griffin delve into Burton's reasons for isolation and bitterness.
Andrea Fay Friedman, the voice of Ellen in "Extra Large Medium", was the final person featured on Born Different 2: More Amazing Stories in 2011. Her role was mentioned, and was packaged with a clip from the episode, specifically the character's date with Chris Griffin.
Community content is available under
CC-BY-SA
unless otherwise noted.