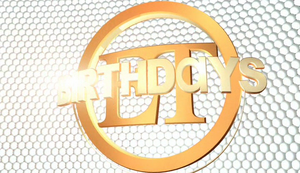 Entertainment Tonight is a daily tabloid-style television entertainment news show that is syndicated by CBS Television Distribution throughout the United States, Canada and in many countries around the world. Linda Bell Blue is currently the program's executive producer. The show makes the claim that it is "the most watched entertainment newsmagazine in the world" (though by what measures this claim is verified is unknown). It is the longest-running entertainment news program, with its first broadcast on September 14, 1981, and was the first syndicated program distributed via satellite. The primary anchor since 1984 has been Mary Hart, who announced in July 2010 that she will be departing the series at the end of the 2010–2011 season, after a 29 year run with the show.
In "There's Something About Paulie", Stewie Griffin blamed the show for his knowledge of Mickey Rourke. The show is then seen, with Hart's legs and then-co-anchor Bob Goen.
Its birthdays segment which happens before and after the last commercial break of each episode, appears in It's A Trap!, with Hart providing the voice-over. The birthdays of Lando Calrissian, IG-88, and Pignose are celebrated. The birthdays segment was led into by a performance of the show's theme song by John Williams and his orchestra.
In reality, the DVD's release was mentioned on ET's December 21, 2010 edition. Previously, they had done a story on Barry Manilow's guest appearance in "Back to the Woods" in an episode that aired during the week of February 11, 2008.
Tom Tucker shows a clip he taped from Entertainment Tonight of Liam Neeson's latest film of Albert Einstein as a killer out for vengeance in "Fighting Irish".
Community content is available under
CC-BY-SA
unless otherwise noted.