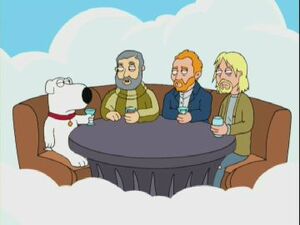 Ernest Miller Hemingway (July 21, 1899 – July 2, 1961) was an American writer and journalist. He was part of the 1920s expatriate community in Paris, and one of the veterans of World War I later known as "the Lost Generation." He received the Pulitzer Prize in 1953 for The Old Man and the Sea, and the Nobel Prize in Literature in 1954.
Hemingway's distinctive writing style is characterized by economy and understatement, and had a significant influence on the development of twentieth-century fiction writing. His protagonists are typically stoical men who exhibit an ideal described as "grace under pressure." Many of his works are now considered classics of American literature.
He appears with Brian Griffin, Vincent van Gogh, and Kurt Cobain in Heaven in the third Stewie Griffin: The Untold Story segment, "Stu & Stewie's Excellent Adventure", after Stu shows his younger self Brian's grave. In Heaven, the four explain to one another how they died.
Hemingway shoots himself in 1920 Paris in "Stewie, Chris & Brian's Excellent Adventure" after listening to Brian, who steals his pen afterwards.
George Townsend slips in Hemmingway's name in an effort to impress Brian during a phone call in "Short Cuts".
Community content is available under
CC-BY-SA
unless otherwise noted.