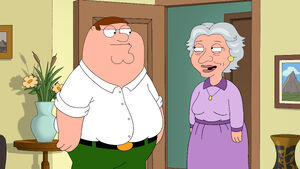 Evelyn is a friend of Thelma Griffin.
After Thelma dies in "Mom's the Word", her friend Evelyn visits Peter following the funeral and they become friends after she admits she had been lonely after her own husband Walter had died of pancreatic cancer. But at The Drunken Clam, she kisses Peter and makes him uncomfortable. After telling Lois what had happened, he tries to clear the air with her and she blames it on her medication, but their day out together takes on a sexual undertone and Peter demands they quit spending time together. Peter goes to visit his mother's grave and Evelyn meets him there, admitting that Peter had been the first man she had been close to since Walter had died and had let things get out of control. But when they hug, Peter snaps her back, killing her. Peter leaves her in the care of a cemetery groundskeeper as he slips away.
Evelyn is voiced by Lauren Bacall.
Community content is available under
CC-BY-SA
unless otherwise noted.