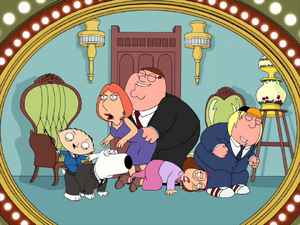 Family Feud is an American television game show that pits two families against each other in a contest to name the most popular responses to a survey-type question posed to 100 people. The format, which originated in the United States, airs in numerous local formats worldwide. Since 2006, John O'Hurley had hosted the show, until 2010, when Steve Harvey replaced him. Former *NSYNC singer Joey Fatone is the current announcer of the show.
The Griffins encounter another band of survivors in "Da Boom" that try to make them answer a question as a parody of the show.
Peter Griffin, as the host of the show in "Stewie B. Goode", the first segment of Stewie Griffin: The Untold Story, cops a feel from one of the female contestants ala Richard Dawson, who always kissed the ladies on the show.
The central plot of "Big Man on Hippocampus" begins when the Griffins become contestants on the show against the Callaghan Family. Interestingly, they appear on a Dawson-era edition, and they fall one point short of winning $5,000. Going by game rules, it is assumed they won $995. On recent editions of the show, the grand monetary prize is $20,000. Also, Lois Griffin French-kisses Dawson, which she had been waiting a long time to do. It is here that Peter Griffin loses his memory after hitting his head on a podium.
In "Stewie Goes for a Drive", a cutaway gag of The Price is Right is featured but the music in the background is reminiscent of that of Family Feud.
After Cleveland's ramblings exhaust the guys during their podcast in "Peter's Def Jam", Peter compares him to host Steve Harvey of Family Feud.
During a Family Feud gag in the Romeo and Juliet segment of "Heart Burn", the Capulet's choose "Out" to go along with "Dammed spot." "Out, damned spot!" is part of a sentence from the play Macbeth, spoken by Lady Macbeth. Peter's Romeo select's "Hello", which Stewie's Tybalt finds ridiculous, but it ends up being the #1 answer as the audience is revealed to be full of Peters.
Community content is available under
CC-BY-SA
unless otherwise noted.