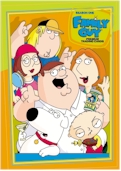 These are cards published by Inkworks. Description from the official site: FAMILY GUY: SEASON ONE
PREMIUM TRADING CARDS
RELEASED: APRIL 2005
CONFIGURATION: 7 CARDS PER PACK 24 PACKS PER BOX 12 BOXES PER CASE
SRP: $3.49 PER PACK
UNCUT MINI-PRESS SHEET "Griffin Family Photos" Only 99 sequentially-numbered sheets will be available. SRP: $69.95 each
FAMILY GUY:SEASON ONE COLLECTOR ALBUM SRP: $19.95
SKETCH CARDS - ONE PER BOX! Fourteen different artists (Artist Bios) each created over 6,300 unique, hand-drawn, Family Guy sketches: Tone Rodriguez, Greg Colton (an artist on the Family Guy series), John Czop, Chris Moreno, Mark Dos Santos, Jeff Zugale, Joel Gomez, NAR, Billy Martinez, Becky Grutzik, Matt Wendt, Rich Koslowski, Roland Paris, Andrew Meisner. Click here to see samples of some of the sketch cards. (14 different artists - Inserted appx. 1:24 packs - 1 per box).
AUTOGRAPH CARDS - Six different autograph cards featuring the voice talent of Family Guy: Seth MacFarlane - Stewie Griffin, Alex Borstein - Lois Griffin, Erik Estrada - The Friendly Officer, Mike Henry - Cleveland, Lori Alan - Diane Simmons, Wally Wingert - Pawtucket Patriot. (6 different autographers).
GRIFFIN FAMILY PHOTOS - A nine-card puzzle featuring our favorite animated family! (9 different cards - inserted appx. 1:11 packs).
BAD DOG - Six-foil and die-cut cards featuring Brian. He's bad to the bone! (6 different cards - inserted appx. 1:17 packs).
PLUS, three box loader cards (1 per display box) and a special case loader card (1 per shipping case) too!
Community content is available under
CC-BY-SA
unless otherwise noted.