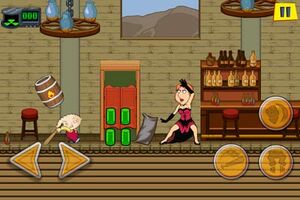 Family Guy: Time Warped is a 2010 iPhone/iPod Touch app that was designed by Glu, creators of Family Guy: Uncensored. The app can be bought for $0.99 on the iTunes App Store. A free lite version and an iPad version are also available for download.
Through a series of mishaps, Stewie and Brian end up lost in time, jumping between Ancient Rome, Ancient Egypt, the Wild West, and modern-day Quahog to recover Stewie's dear teddy bear Rupert and find their way home. They also encounter historical versions of other Family Guy characters, like Lois as a sultry saloon girl and Quagmire as a deviant Roman emperor named Quagligula.
You control either Stewie or Brian in platforming and beat 'em up mode, jumping around in order to find hidden items and reach the end of the level. Each character has a blunt object they can swing such as a bat for the baby and a bone for the dog, plus a long-range weapon and a few special moves. For example, Stewie can perform a disabling uppercut that takes a few moments to charge, and Brian can use Mort Goldman's ipecac to induce vomiting in his enemies.
If you pick up green vials of uranium, Stewie can also perform a double-jump and Brian can glide through the air. These vials of uranium also protect you from dying, one hit from a bad guy will send them flying, forcing you to pick them back up.
Characters
Community content is available under
CC-BY-SA
unless otherwise noted.