Family Guy Season 20 preview
Upcoming New Episodes
Below is the list of upcoming episodes. All times are EDT. Watch these then come back to the FGWiki to share your knowledge. Upcoming episodes can be found on The Futon Critic, TV on MSN, and Fox Flash
LASIK Instinct airs September 26th, 2021 at 9:30/8:30C on FOX

With her vision waning, Lois elects to get LASIK surgery, but exploits her new disability for monetary gain. Meanwhile, Peter, Chris and Stewie must partake in all the activities with Doug that his father neglects.
Rock Hard airs October 3rd, 2021 at 9:30/8:30C on FOX

While at an old record store, Peter and the guys recount tales of three rock legends: Jim Morrison, Muddy Waters and Elton John.
Recently Aired New Episodes
Below is the list of recently aired episodes. Watch or rewatch them again and help contribute more to the FGWiki episode pages.
Tales of Former Sports Glory aired May 16th, 2021 at 9:30/8:30C on FOX

The guys regale each other with stories of youthful athletic accomplishments. Cleveland was a teenage baseball player from Cuba, Quagmire was a bad boy tennis superstar from New York and Peter was an underdog boxer from Philadelphia.
Family Cat aired May 9th, 2021 at 9:30/8:30C on FOX

Brian tries to convince The Griffins that their new adopted cat, Pouncy, is evil.
Watch The Latest Episodes Here
Fan Boards & Discussion
Active fan boards to discuss Family Guy
Show News
Nike is Releasing a "Stewie Griffin" LeBron
Monday, August 22, 2021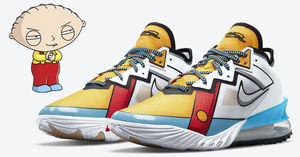 LeBron James and Nike Basketball are releasing a new "Cartoon Art" colorway of the LeBron 18 Low, inspired by the character Stewie Griffin from Family Guy.
The upcoming LeBron 18 Low features the same cel-shaded color blocking with deep black outlines as the LeBron 6 PE. The yellow vamp represents Stewie's undershirt, while the red sections represent the suspenders on his overalls. Toward the bottom of the upper is a touch of Baltic Blue, the same color as Stewie's own shoes in the show.
The Nike LeBron 18 Low "Stewie Griffin" drops on September 3rd. For pricing and ordering information, see: https://www.nike.com/launch/t/lebron-18-low-cartoon-art?cp=34674701600_search_a162033089905756542574003684014489818852&gclid=CPeFmJHlx_ICFRCwxQIdA2YI7w&gclsrc=ds
Disney Television sets time for Family Guy virtual panel for 'ComicCon@Home"
Friday, July 2, 2021
Disney television has announced the times for its virtual ComicCon panels. One of the highlights will be celebrating the 20th anniversary of Family Guy and will feature the cast and producers in a virtual trivia night. The Family Guy panel will be at 7pm ET (4pm Pacific) on Saturday, July 24th and will include the traditional preview of the coming season.
Disney splits off it's 20th Television Animation department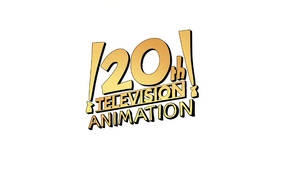 Tuesday, March 30th, 2021
Press Release
Longtime 20th Animation Exec Marci Proietto has been tapped to lead Disney Television Studios' new production unit, 20th Television Animation, which currently has 11 series in production.
Under Proietto's leadership as executive vice president of the unit, 20th Television Animation will continue to manage and produce the company's long-running series, including "Family Guy," "American Dad," "Bob's Burgers" and "The Simpsons,","The Great North", "DuncanVille", "Bless The Harts" ,as well as Apple TV+ ' "Central Park, HBO Max's ""The Prince" " Hulu's "Solar Opposites" and the streamer's recently ordered "Koala Man
Through the new structure, those shows will no longer fall under 20th Television's purview. Similar to the newly formed Walt Disney Television Alternative led by Rob Mills, Proietto and her new production unit will report to Walt Disney Television president of entertainment Craig Hunegs.
Thursday, February 25, 2021
When Family Guy comes to Disney+, it will be missing an episode. It is currently withholding "Partial Terms of Endearment" from its overseas Star channel and will continue to do so when the streaming rights come to stateside Disney+ service. To maintain the episode count, "Something, Something, Something, Dark Side" will be counted as two episodes but it does not appear they are extending the same to other hour-long episodes.[1]
A new voice actor for Cleveland
Friday, September 25, 2020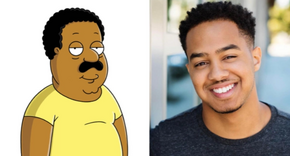 Arif Zahir to be the new voice of Cleveland Brown starting in 2021
Vote for HAHA
Friday, July 17, 2020
Hulu is having a fan vote for HAHA - Hilarious Animated Hulu Awards. The two categories are Best Catchphrase with "Who Else But Quagmire?" and Most Epic Battle Scene featuring Peter and Ernie the Giant Chicken. Vote now at: https://www.hulu.com/haha
San Diego Comic-Con Virtual Family Guy Panel
Sunday, July 12, 2020
Due to the convention being cancelled to Covid-19, the San Diego Comic-Con will host virtual panels throughout its regularly scheduled run. The Family Guy panel will air at 2pm PT (5pm Eastern) on Saturday, July 25th as the show takes a look back it is 350th episode history, including a table read. The panel will also provide a sneak peek at the upcoming season 19 episodes.[2]
Friday, June 26, 2020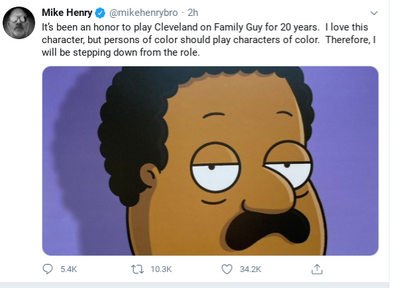 Mike Henry becomes the latest white actor to announce he's stepping away from voicing a person of color, joining the likes of Kristen Bell from Central Park and Jenny Slate from Big Mouth. The actual date of departure is uncertain since most of the show's 2020-2021 season has entered final production. Nor is it certain if this won't see a walk back like the end of gay jokes announced previously.
Thursday, March 26, 2020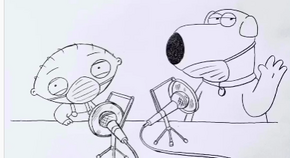 While in self-quarantine, Seth MacFarlane has created a Coronavirus podcast as his Family Guy characters. [3]
Rolling Stone gets to the bottom of the Conway Twitty gags
Wednesday, March 25, 2020
Rolling Stone reveals the story of the Conway Twitty gag. [4]
New cartoon satirizes the Royal family
Monday, January 27, 2020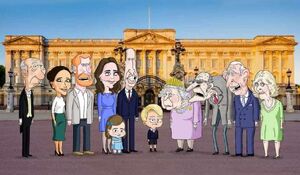 Producer Gary Janetti is helming a new animated cartoon titled The Prince for HBO Max which looks at the Royal family though the eyes of Prince George, eldest son of Prince William and Princess Kate. Orlando Bloom, Iwan Rheon and Alan Cumming are lending their voices to the show. [5]