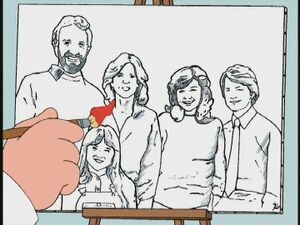 Family Ties is an American television situation comedy that aired on NBC from 1982 to 1989. The sitcom reflected the move in the United States from the cultural liberalism of the 1960s and 1970s to the conservatism of the 1980s. This was particularly expressed through the relationship between Young Republican Alex P. Keaton (Michael J. Fox) and his liberal, former hippie parents, Elyse and Steven Keaton (Meredith Baxter-Birney and Michael Gross). Tina Yothers and Justine Bateman played the two daughters. In the show's third season, Elyse gave birth to a boy named Andrew who was played by Brian Bonsall.
At the beginning of "Fifteen Minutes of Shame", Peter Griffin learns to paint from an episode of the PBS art show The Joy of Painting, practicing his craft. He veers off of Bob Ross's directions, ending up with a sketch of the Keaton family, much like the opening credits from the 1983-1984 and 1984-1985 seasons.
The show's theme song is part of the "T.V. Medley" on the Family Guy: Live in Vegas album.
In "Stew-Roids", as Stewie Griffin is being beaten up by Susie Swanson, an embarrassed Peter states it is as bad as when Family Ties does a Tina Yothers episode, leading to a cutaway of Peter watching one such episode. In the episode, Tina Yothers' character Jennifer tells her mother she just got her period, which causes Peter to stand up and states "and I will see the Keaton Family next week." and walks out of the room.
In "Jerome Is the New Black" Jerome is watching an episode of the show, where Alex confronts Nick over his relationship with Mallory. Jerome's house is burnt down soon after. He claims the garbage sculpture he gave to Peter was made by Nick.
Baxter and Gross reprise their roles as Elyse and Steven Keaton in a later episode of the show that focused on Jennifer in "Brothers & Sisters". The episode aired the same night as the 9th Annual TV Land Awards, which featured a Family Ties cast reunion. Both the awards and the episode began at 9PM Eastern Time.[1]
Community content is available under
CC-BY-SA
unless otherwise noted.