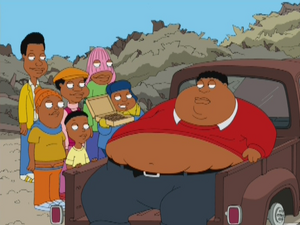 Fat Albert and the Cosby Kids is an animated series created, produced, and hosted, in live-action bookends, by comedian Bill Cosby, who also lent his voice to a number of characters, including the titular one. Filmation was the production company for the series. The show premiered in 1972 and ran until 1985. The show, based on Bill Cosby's remembrances of his childhood gang, focused on the lovable, oversized Albert - with his signature rumbling exclamation "Hey hey hey!" - and his friends. While many of the show's plots were light-hearted, many episodes focused on serious issues, such as alcohol use, gangs and juvenile delinquency.
In "I Am Peter, Hear Me Roar", Fat Albert is among the neighbors of Spooner Street that are picked for the timeshare for a boat. Peter Griffin mistakes him for singer Della Reese.
The Cosby Kids are seen cheering for Peter after his speech in "Peter Griffin: Husband, Father...Brother?"
In "Baby Not On Board", Albert is depicted as morbidly obese and, despite having been diagnosed with diabetes, still consumes sugary foods such as chocolate, which his friends urge him not to do. His foot has also been amputated. He is voiced by Mike Henry.
Community content is available under
CC-BY-SA
unless otherwise noted.