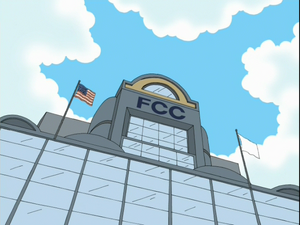 The Federal Communications Commission (FCC) is an agency to uphold broadcast standards of the community on systems including television and radio. Programs that are considered in violation of the standards are fined. In "PTV", the agency reacts to David Hyde Pierce's trouser malfunction at the Primetime Emmy Awards by heavily censoring any suggestive television shows, no matter how slight. In response, Peter Griffin starts his own television station with the callsign PTV. This allows him to have his own graphic freedoms. After the situation gets out of hand, his wife Lois calls the agency. Peter, Stewie, and Brian perform a song all about the agency, but to no avail and PTV is shut down.
The FCC starts to censor any foul language and inappropriate behavior in Quahog; all expletives are bleeped with an air horn, and audible farts are banned in public. After being prevented from having sex due to the indecency laws, Lois eventually concedes that Peter was right, and they both lobby Congress to have the FCC's rulings reversed. At first they resist, but they relent when Peter points out the resemblance of many Washington area buildings to various naughty body parts. That is when the FCC decides to stop censoring real life.
The agency's regulations interfere with the events of "Big Man on Hippocampus", so the show brings in Dwayne Johnson to act out Peter and Lois's intercourse using action figures based on them.
Community content is available under
CC-BY-SA
unless otherwise noted.