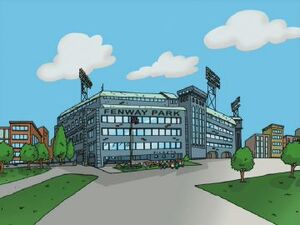 Fenway Park is a baseball park near Kenmore Square in Boston, Massachusetts, USA. Located at 4 Yawkey Way, it has served as the home ballpark of the Boston Red Sox baseball club since it opened in 1912, and is the oldest Major League Baseball stadium currently in use.
The Griffins takes in a Boston Red Sox game here against the New York Yankees in "Mr. Griffin Goes to Washington".
Peter, Brian, and Stewie come here in "The Courtship of Stewie's Father" for another Red Sox game. However, Stewie does not make it inside when he is accidentally locked in the car.
Peter and the guys take in a ballgame while Steve streaks across the field at Fenway Park during in "The Old Man and the Big 'C'".
Lois refers to Fenway Park as "Red Sox Field" after she, Joe and Quagmire take in a Red Sox game in "Total Recall".
While reaping the benefits of being in a back brace from scoliosis in "The Dating Game", Stewie passes on seats directly behind home plate at Fenway Park.
Peter wins a fantasy baseball camp weekend at Fenway in "Peter's Lost Youth".
Peter and Lois elope at Fenway Park after escaping from her family in "Peter & Lois' Wedding", which cost Peter $50,000 before he lost all of his money in the tech industry. Unfortunately, he found they still had to share the stadium with a baseball game. When he catches a fly ball, it costs the Red Sox the game which angers the fans. Lois admits she had second thoughts about her choice to marry Peter, but since she was already pregnant with Meg, decided it was too late to back out.
Community content is available under
CC-BY-SA
unless otherwise noted.