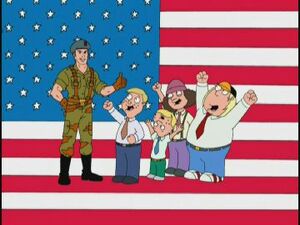 Flint is a character from the G.I. Joe series. Born Dashiell R. Faireborn, he is the rugged Warrant Officer, easily identified by his trademark beret.
Flint appears in "North by North Quahog", telling the students of Buddy Cianci Junior High School not do drink alcohol.
He appears as a toy in the Robot Chicken universe in "Road to the Multiverse".
Flint appears when Stewie tries to explain the concept of G.I. Joe in "Amish Guy".
Flint is voiced by Bill Ratner in "North by North Quahog" and by Seth MacFarlane in "Amish Guy".
Community content is available under
CC-BY-SA
unless otherwise noted.