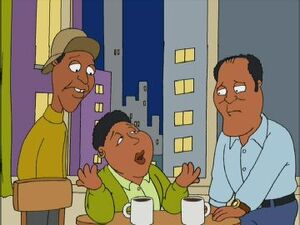 Florida Evans was the fictional supporting character on the sitcom Maude and the lead character in its spin-off, Good Times. She was the hard-working mother of the Evans family. She first appeared as Maude and Walter's housekeeper on Maude (1972–1974), but later she quit to be a housewife, which she was when Good Times began (1974–1977, 1978–1979). Florida Evans was portrayed by Emmy Award-winning actress Esther Rolle.
The family watches an episode of Good Times in "If I'm Dyin', I'm Lyin'". Here, Florida Evans, played on the show by Esther Rolle, complains about her name.
Florida is compared to David Ortiz in "The Unkindest Cut".
Community content is available under
CC-BY-SA
unless otherwise noted.