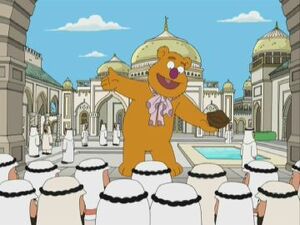 Fozzie Bear is a Muppet, originally created by Jim Henson. He is an orange, particularly fuzzy bear who tells jokes and is known for his catch phrase, "Wocka Wocka Wocka". Shortly after telling the joke, he is usually the target of rotten tomatoes and ridicule, especially from hecklers Statler and Waldorf. Fozzie is very good-natured and he loves his friends. He was originally performed by puppeteer Frank Oz, although in recent years, he has been performed by Eric Jacobson.
In "The Tan Aquatic with Steve Zissou," following a statement that Stewie Griffin makes about wrong-sounding Muppets, he appears with a very deep African-American voice provided by Michael Clarke Duncan.
Brian/Chewbacca uses Fozzie's catchphrase of "Wocka-wocka" in "Blue Harvest".
In "Baby Not On Board", Fozzie does a show in Saudi Arabia telling Arab jokes. In this appearance, he was voiced by Seth MacFarlane.
Kermit after being battered at the hands of Miss Piggy, tells Fozzie that they are changing the name of a skit from "Bears in Space" to "Pigs in Space" in "And I'm Joyce Kinney".
External links
Community content is available under
CC-BY-SA
unless otherwise noted.