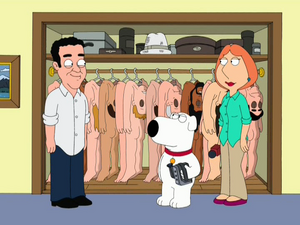 Fredrick Aaron "Fred" Savage (born July 9, 1976) is an American actor, director and producer of television and film. He is perhaps best known for his role as Kevin Arnold in the television series The Wonder Years and the grandson in The Princess Bride.
In later years, he has directed and produced numerous programs, such as Hannah Montana, Phil of the Future, Ugly Betty, Modern Family, and It's Always Sunny In Philadelphia.
Herbert dreams about dancing with Savage in "Prick Up Your Ears".
He is the greatest actor in the world, as established in "FOX-y Lady". He appeared as himself in the episode. Because he felt the need to act even as his acting career went downhill after The Wonder Years, he created several celebrity characters, including Rush Limbaugh and Michael Moore, and led separate lives as these characters. However, due to the fact that FOX News reported this, it is now a lie as revealed in "Excellence in Broadcasting".
Filmography
Community content is available under
CC-BY-SA
unless otherwise noted.